With the advent of new email marketing techniques, email users have reached 4 billion till 2022. As per the report the numbers will reach 4.48 billion by 2024.
Facts demonstrate that after social media platforms, emails are the one of the most preferred distribution mediums for disseminating brand information, any exciting offers, internal gossip, and product launch.
With the advent of technology, email marketing has adopted new techniques to connect with their audience, generate leads, and drive conversions.
Email marketing is a wide process that requires an effective strategy, compelling content and a validated list of emails to get the desired results.
In this article, we will explore six best practices for email marketing that can help you achieve better results from your email campaigns.
Foundation: Build a quality email list
Content: Craft a compelling subject lines
Screen Optimization: Design and Layout considerations
Personal Touch: Personalization and Segmentation
Final Call: Call-to-Action (CTA) Optimization
Analysis: Testing and Performance Review
These are some of the professional email etiquette tips and best practices that will help you communicate better:
1. Foundation: Build a quality email list
A validated email list?
Yes, a validated email list means that the contacts on the list are correct, active, and will reply to your business offer. This list helps you to reach your potential audience at the right time with the right message.
To build an email list, one must adopt the following methods:
Survey forms
Opt-in form on website
Social media link
Occasional messages on Email
For email marketing you need a good quality of email lists as it affects your brand reputation, drives sales and decreases chances of bounces or email spamming. Businesses can cultivate stronger relationships with their potential audience while maximizing the effectiveness of their marketing initiatives.
Building an email list of your clients and target audience? Let's see what fields are included while making an email list.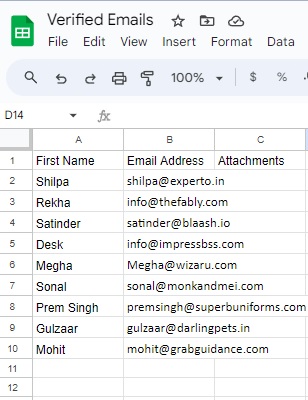 2. Content Creation: Craft a compelling subject line
A strong subject line grabs the reader's attention and entices them to open your email. It should be concise, clear, and compelling. Adding a touch of personalization like their name, company's name to your subject lines can significantly increase open rates.
For Example:
Gain more digital presence with (XYZ) company
Here, the title defines the clear motive of the sender, and also the content which is understandable and readable.
So, one should take care of these eye details which measure the success rate of your email marketing.
3. Screen Optimization: Design and Layout considerations
A well-designed email template can enhance the overall user experience and drive engagement. Keep your email template clean, organized, and visually appealing. Make sure the layout is easy to read, with clear headings and sections.
Use headlines, subheadings, and bullet points to break up the text which makes it readable. Incorporate visually appealing elements like buttons or call-to-action banners to draw attention to key actions you want your subscribers to take.
To ensure the emails are sent correctly, send a test mail to yourself or in your team to identify alignment or any editorial error.
4. Personal Touch: Personalizing and segmenting email campaigns
Do you know 60 percent of consumers say they've made a purchase as the result of a marketing email they received?
So, as per the reports, Personalization and segmentation are now essential practices in email campaigns for more conversions. Giving a personal touch to the mails allows you to tailor emails to specific individuals, making them feel valued and understood.
To register new users; try including sign-up forms to the new clients, feedback surveys to the existing clients, and a combined purchase history to gather information about your subscribers. This data will help you understand their preferences, behaviors, and to gain trust.
Sample of Personalized message:
The content above showcases a personalized message with exciting offers specifically crafted for you. This serves as an alternative method of communication, distinct from traditional text-based emails.
5. Final Action: Implementing a strong call-to-action strategy
Introducing a call-to-action in your email marketing in a very subtle way to gain attraction. A well-executed CTA drives conversions, encourages user engagement, and maximizes the return on investment. Try to use action-oriented language and create a sense of urgency in a very subtle way.
For instance, a CTA could be as simple as "Buy now" or "Click here to shop now" or "Register here".
New offer! Save 70% on images
100 images for $80
Congrats! You've got a personal discount on images. Unlock yearly access to 240+ million photos, vectors, and illustrations at a special price.
Buy Now
In the example provided above, the "buy now" button serves as the Call-to-Action (CTA) for readers. Apart from that, any link in the text, the word My Calendar is also a CTA which means to set up a call with us. This is the very subtle way of placing a CTA in your email.
Placing a CTA strategically will increase click-through rates and conversion rates significantly. CTAs also help in grabbing the recipients' attention and grabbing more leads. Don't forget to incorporate well-crafted CTAs to improve engagement with email recipients.
So, Are you ready to dive in for more response rates and potential sales?
6. In-depth Analysis: Testing and Performance review
Tracking and measuring your email campaign metrics is like "finding out the missing thing" ; it tells you what's missing and what needs to be replaced.
After running an email campaign, give a closer look to the report which shows; open rates, click-through rates, and conversions. These numbers hold valuable insights into your campaign's performance and can guide your optimization efforts.
Identify areas that need improvement and use your data to guide your future campaigns.
Several indicators are essential in assessing the success rate of email marketing since they offer useful information. The click-through rate (CTR), which shows the number of recipients who clicked on a link inside an email, is one of these indicators.
The percentage of emails that were unsuccessfully delivered to recipients' inboxes is referred to as the bounce rate. High bounce rates might be a sign of problems with inaccurate email addresses. On the other hand, soft bounces require extra consideration because they are caused by problems like overflowing mailboxes or down servers. Maintaining good deliverability and reachability among subscribers by keeping these under control benefits the whole campaign.
See the below image that shows how the tool assesses the open rate, click rate or any other information.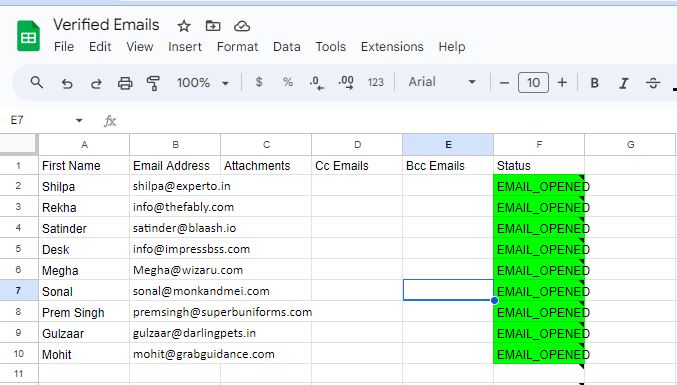 Up to you…..
Are you ready to supercharge your email marketing to the next level?
All these six practices will boost your email campaigns which will drive more leads in the future.
Hurry up! Go and Start your next email campaign.